Silent Disco headphone hire throughout the UK including Manchester & surrounding areas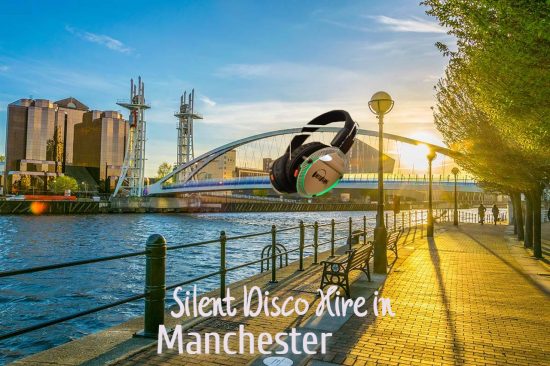 Silent Disco is MASSIVE in the Manchester area!
If you're looking to host a fun and unique event in Manchester or the surrounding areas, Silent Disco headphones are a great choice. These headphones are perfect for any occasion, from birthday parties to corporate events, and are especially popular in Manchester due to the city's vibrant nightlife scene and love for music.
One of the main reasons people in Manchester love to hire Silent Disco headphones is that they allow you to create a party atmosphere almost anywhere. For example, you could host a Silent Disco at the iconic Manchester Cathedral (if you had permission, obviously), with its stunning architecture and rich history providing a unique backdrop for your event. Alternatively, you could take your headphones to one of Manchester's many green spaces, such as Heaton Park or Fletcher Moss Botanical Gardens, and dance the night away under the stars. (We now offer transmitters that are battery powered giving the ultimate flexibility!)
With your headphones on, you can switch between different channels playing a variety of genres, from indie rock to electronic music at. You could even take a walking tour of Manchester's music landmarks, such as the former site of the legendary Hacienda nightclub, and use your headphones to listen to the tunes that made these places famous.
Silent Disco headphones are also popular in Manchester because they are battery-powered, meaning they last longer than rechargeable headphones and there's no need to worry about running out of charge. 
In summary, people in Manchester love to hire Silent Disco headphones because they offer a unique and flexible way to experience the city's music scene and host fun events almost anywhere. With their AAA battery-powered design, they are perfect for long events and ensure you can dance the night away without worrying about your headphones running out of charge.
Silent Disco is
fun
affordable
for everybody
for any-age
great add-on
SPECIAL HIRE OFFER FOR MANCHESTER PARTIES!
25 headphones, delivered on a Friday - collected on a Monday
£
110
(Plus refundable deposit of £80)
25 LED Three Channel Silent Disco Headphones

Includes Delivery & Collection by DPD courier