Silent Disco Headphone Hire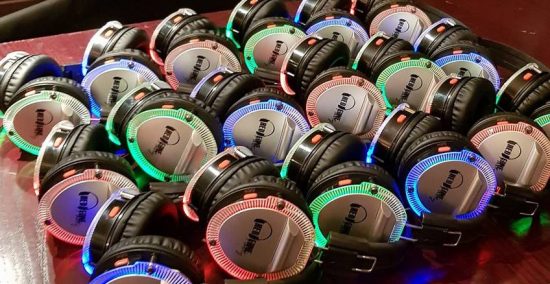 Silent Disco Headphone Hire for the UK!
We have over 1000 wireless headphones available and ready for your silent disco headphone hire needs! We can cater for virtually any kind of event. From smaller private functions, such as birthday parties, wedding celebrations and bar mitzvah's – to larger scale events at nightclubs, student unions or festivals. 
Even if you don't have a typical music venue, the great thing about a silent disco is that it can go ANYWHERE! As long as you have a power source for the transmitter to plug into. So you could party in a church, on the beach, in a castle, in a warehouse. Pretty much anywhere you like! 
Our three channel LED premium headphones are very comfortable to wear – and these stylish LED headphones light up in three different colours, depending on which channel your headphone is tuned in to. 
All you need for the silent disco to work are three music sources connected to the provided transmitter. Music sources can be from any device that has an audio-output, such as an iPhone, iPad, Android phone, laptop, CD player, DJ decks etc. You can even setup a Spotify playlist on your device and let that do the DJing for you!
We also have a selection of top quality DJs that you can choose to add to your event, if you would like to make it that more exclusive!
Have an explore of our website to gather more information, or get in touch if you have any questions or would like to make a booking!
More information about the new three channel headphones can be found in our blog post, here. 
Silent Disco is
fun
affordable
for everybody
for any-age
great add-on
SPECIAL WEEKEND HIRE OFFER FOR PRIVATE PARTIES!
25 headphones, delivered on a Friday - collected on a Monday
£
110
(Plus refundable deposit of £80)
25 LED Three Channel Silent Disco Headphones

Includes Delivery & Collection by DPD courier