Silent Disco headphone hire throughout the UK including Bath & surrounding areas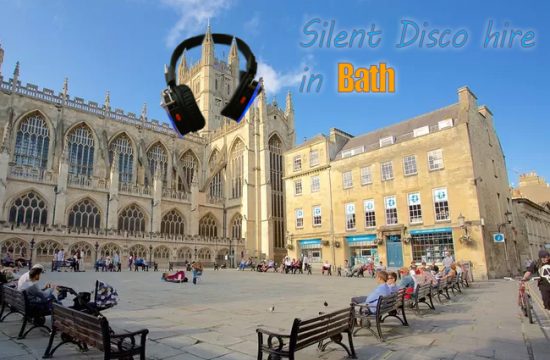 Silent Disco isn't recommended in an actual bath
Are you looking to add a silent disco to your event in or around Bath, Somerset? You are definitely on the right website for that – and we will be more than happy to assist your every need. Although we wouldn't recommend having a silent disco in a bath – what with electronics and water not being the best of friends – we would definitely recommend having a silent disco IN Bath. The beautiful, historic, hot-spring filled Roman city just off of the A36.
As you have wisely discovered this page, we can only assume that you are aware of the concept. But here is a quick summary for your information. Hire your headphones from us, we provide you with all the tech stuff that your party will need (headphones, transmitters, AV cables, AAA batteries), all you need to supply are the three music sources,
Get together your family, friends, colleagues, customers, clients – whoever it may be – and give them the MOST AMAZING party experience EVER. It's fantastic fun for EVERYONE! And one of the brilliant things about Silent Disco is that you can party pretty much anywhere! (As long as there is somewhere for the transmitter to be plugged in)
Silent disco inside Bath Abbey? Why not! Silent disco underneath the Pulteney Bridge? If you have permission, sure! 
Get in touch with us today to get your quote.
We have been in the business for over 16 years and strive to offer the BEST customer service, products and pricing. three
Silent Disco is
fun
affordable
for everybody
for any-age
great add-on
Some venues in & around Bangor that our headphones have once been..
SPECIAL HIRE OFFER FOR BATH PARTIES!
25 headphones, delivered on a Friday - collected on a Monday
£
110
(Plus refundable deposit of £80)
25 LED Three Channel Silent Disco Headphones

Includes Delivery & Collection by DPD courier