Silent Disco Full Package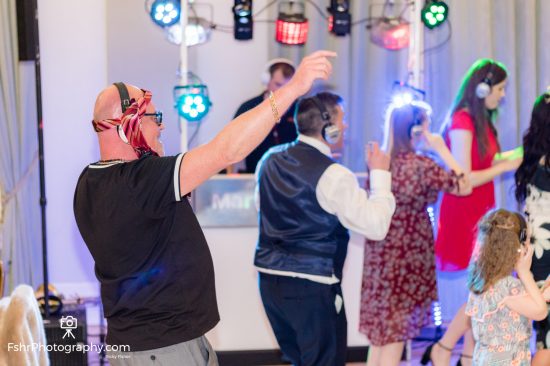 Let our 'Silent DJ' make your event a one to remember!
As well as our dry-hire Silent Disco services, we can also provide you with a top class 'Silent DJ', if you want to take the pressure off your evening and make it a one to remember. Hiring the silent disco system and using playlisted music is fine – but it lacks interactivity, and a skilled ear that knows how to make the dance floor move. That's where our professional "mixing" DJs come in. We have all been to many events over the 14 years of doing this, and we know the music that works – and doesn't work – in a Silent Disco environment. 
As mentioned, our 'Silent DJs' are professional mixing DJs, that mix each song seamlessly into the other. No stop / start transitions. Great for nightclub and festival environments.
Included in the price would be the headphone hire, the beautiful Liteconsole XPRS DJ booth, some amazing Gig bar Move disco lights and music for the other channels. 
You can choose to hire up to three DJs. However, to keep costs at a minimum, you could choose to hire one "live" DJ for channel one, and then have playlists on channels 2 and 3. The DJ would provide the playlists for these channels.  You will also get access to a special section of the Marvellous Disco website where you can submit song requests, so you can make sure your favourite tunes are played on the night! You can, of course, choose to have a second or third DJ to add to the interactivity of the evening, and to give a "DJ battle" type feel to the night. 
As our DJs are in demand, it would be subject to availability. Pricing would also be subject to your location and date. 
Get in touch today if you are looking for the full Silent Disco & DJ package! 
Silent Disco is
fun
affordable
for everybody
for any-age
great add-on