Silent Disco by Hedfone Party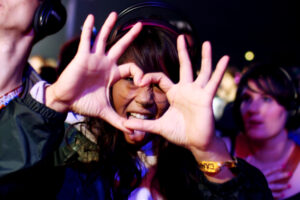 We are now in our 16th year of operating Silent Disco events and we are still going strong.
We started off in December 2007 hosting small events at local bars/clubs within close proximity to our head office in Reading. These events became very successful and we decided to invest in more headphones, taking our inventory up from a few hundred headphones to a couple of thousand! 
The years passed and events started to get bigger, better and more widespread. We began hiring headphones to events throughout the UK from student unions and nightclubs to museums and shopping centres. 
In 2009 we had our first overseas Hedfone Party event, which was a tour of Northern America by Jack Wills.
Who we have worked with over the years...
We have worked with some huge international festivals such as Festi'neuch in Switzerland, Rock for People in Czech Republic and Smirnoff's 'Be There' tour in Ireland.
We have worked with big-named nightclub brands, including Tiger Tiger, Revolution and Walkabout. 
We have worked with popular promotions brands such as Rough Hill, Taking Liberties and Propaganda. 
We have worked with huge recreational brands such as Butlins, The Tate Museum and Philip Morris. 
We have worked with massive retail brands such as Westfield, John Lewis and Converse. 
We have worked with famous drinks brands such as Red Bull, Lucozade and Southern Comfort. 
We have worked at huge music festivals such as Creamfields, V Festival and CarFest. 
We have worked with innovative outdoor cinema companies such as Rooftop Film Club (London), Everyman Cinema and Nomad Cinema (London). 
We have worked with lots of TV companies, such as BBC, MTV and Dave. Plus loads of other well known brands along with hundreds of private events.
We are more than happy to assist with your event need – whether you are looking to simply Dry Hire our Silent Disco equipment or whether you want to hire the full system, with DJs and Lighting effects.
If you are looking to do something more long term, you may wish to consider purchasing your own headphones – which you can find more information on our Sales page. 
Let us tell you a bit more about our Silent Disco Company...
We are based in both Northumberland and Berkshire, but give full coverage to the whole of the UK using DPD courier. Silent Disco Hire with us is such an easy process. We believe in great communication with our clients and we are here 24/7 to help assist with your event.
Our Silent Disco headphones are so much fun. With equipment easy to setup, and with three channels of music to choose from, your great night of fun can start within minutes of setting up. Great for any private party, corporate events, weddings or anything else for that matter. And because they are LED silent disco headphones, you can see what different music your guests are listening to as the headphones light up either green, red or blue. So you can see what channels of music your guests choose to dance to at the party (if you can't tell by the, ahem, lovely singing!)
All you need to provide are the music devices, which can be anything from laptops, phones, ipods, iphones, tablets etc. No DJ equipment is required to get this party started, as long as you have the music channels you can have a fantastic time. And you can keep the neighbours happy because the music source is through our LED headphones rather than a booming sound system!
Whether you are a silent disco newcomer, or you have had lots of parties in the past, our great service and high quality equipment is the perfect solution to make sure you have a fabulous time every time!  It really is great fun!
So, if you are looking to host your own amazing Silent Disco party; are looking for a Silent Disco company that can supply you with all the equipment at a competitive price; that offers brilliant equipment guaranteed to keep your guests dancing all night and that offers flexible delivery and collection options then get in touch today! We are the Silent Disco experts.