Silent Disco Party to make your event one to remember!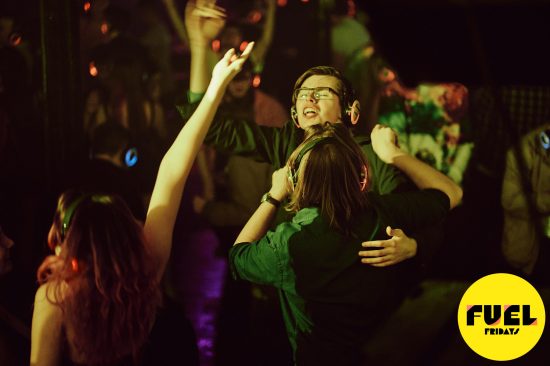 It's very easy for you to arrange your own Silent Disco party!
We can only assume that you have seen the Silent Disco concept somewhere before and you want to have your very own. Maybe you saw it at your local nightclub? Or at Glastonbury? Yes you really can have your own Silent Disco party, and our pricing is extremely reasonable. 
We are silent disco professionals! We specialise in providing our clients with the best quality audio equipment along with top notch customer service. Someone is always available to chat on the phone, and we aim to reply to emails within a few hours – if not quicker. 
The bass response in our headphones is excellent and they are suitable for all kinds of events, from your typical DJ / Disco nights, to live performances, speech and conferences.
We have been supplying our clients with Silent Disco equipment for over 14 years and our headphones have been used by many large companies, such as Tate Modern, Cambridge University, O2 Academy and Diageo – to name a small few! Our headphones have also been on the small screen, with shows including BBC Click, BBC Museums at Night, Celebrity Big Brother and Storage Hunters (they faked part of the show to look like a box of our headphones were 'discovered' inside one of the containers.)
Our three channel equipment have built in LED lights that change colour depending on what channel is being listening to. Blue, green or red.
Get in touch today to get your silent disco party quote!
Silent Disco is
fun
affordable
for everybody
for any-age
great add-on
SPECIAL HIRE OFFER FOR MEDIUM SIZE PARTIES!
100 headphones, delivered on a Friday - collected on a Monday
£
205
(Plus refundable deposit of £100)
100 LED Three Channel Silent Disco Headphones

Includes Delivery & Collection by DPD courier